(Sidebar for Dos Motos in Patagonia)
Frequently Asked Questions
What's a Transalp?

The Honda Transalp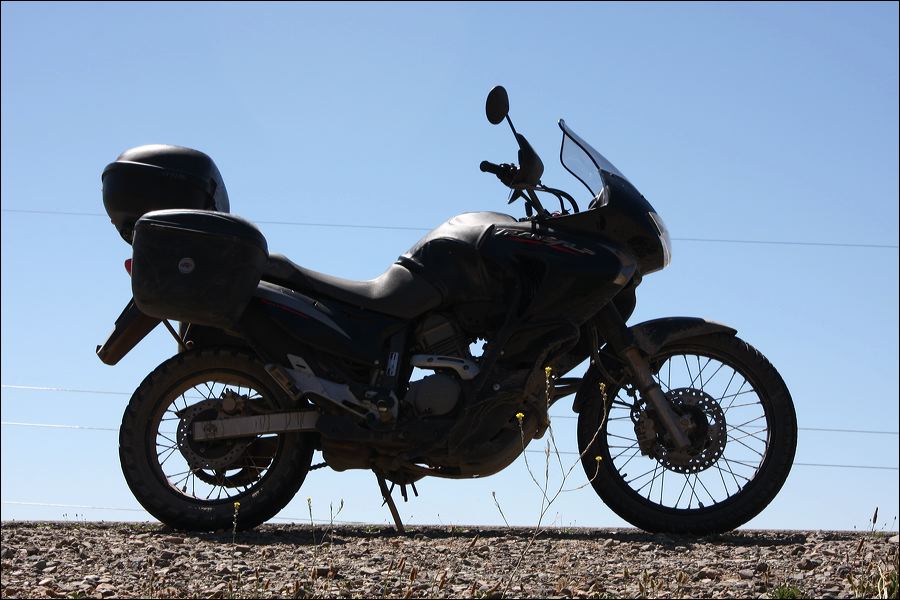 A 650 cc, water cooled, V-twin dual-sport bike with a 21-inch front wheel. It weighs 190 kg (dry) and has a range of 300 kilometers. It is neither overweight nor overpowered, the two biggest drawbacks of the big-adventure-bike syndrome. Honda sells this motorcycle (and its larger sibling, the 750 cc Africa Twin) everywhere in the world with one exception - the USA. It's a nutty policy because the Transalp is a wonderful motorcycle and should sell well.
Where'd you rent it?
From Motocare in Buenos Aires. Visit them at www.motocare.com.ar/rental/ or e-mail Mariano Calderon at mariano@motocare.com.ar Motocare has a fleet of 13 Transalps that collectively cover 360,000 kilometers during the October-through-March rental season. Mariano told us, "The Transalp is a bike I'd trust to get me from Alaska to Ushuaia." He's right. We picked up and returned our bikes at the Motocare branch in Neuquen, which is 1100 kilometers closer to the Andes than Buenos Aires. We paid US $80 per bike per day. That's also the lowest rental rate I could find on the internet. We were very happy with Motocare.
Mariano Calderon of Motocare, where we rented our Honda Transalps.
What are the unpaved roads like?
A lot better than in Baja. Hard-packed dirt embedded with olive- to golf ball-sized stones, graded to produce a high crown (for drainage) and sprinkled with heavy gravel. The gravel moves away from the vehicle tracks, producing small-stone ridges between the tracks. A typical road has three tracks - two for a car and one for you. There's no shoulder and the gravel ridge at each edge of the road acts as a curb (something to avoid). Right turns are aided by the banking of the crown. On left turns the crown is off-camber, and you just have to take it easy on blind left curves. Our cruising speeds on gravel were typically 70 to 90 km/h. Dust is a problem, so we made sure nobody ever passed us. Cars generally have to stay in line and eat the dust of the vehicle ahead. That's not true with a motorcycle, and we took full advantage of that.
How good are the local drivers?
We found them sane, competent, and courteous, especially on the open road. The only exception during our two weeks of riding was a BMW driver who was over the double yellow, and stayed there when he saw it was only a motorcycle coming at him.
What about cops?
There aren't that many outside of towns - certainly not as many as in California. Apparently the system relies on people using their common sense. In the provinces we visited, you can ride sensibly without fear of being hassled. Police check points are common, however, as in Baja. Politeness when dealing with police and border officials is always good policy.
Is it easy to cross the border between Argentina and Chile?
Yes. Just be sure your motorcycle has the proper papers. To leave one country and enter the other took us, at the longest, an hour. Typically it took a half an hour. We crossed four times and had no problem.
What about cost?
Per person (double occupancy) we spent about $2400, Neuquen back to Neuquen. The breakdown: rental $1120; gas $250; lodging $400; food and drink $450; entertainment (river rafting, lake cruise, etc.) $150. It's possible to spend even less on accommodations and food or, easily, much more. Argentina, at three pesos to the dollar, is a bargain and is substantially less expensive than Chile. Typical costs for gas are US $1.55 per liter in Chile and $0.66 in Argentina.
What did you take with you that was especially valuable?
A tire pump and a good patch kit.